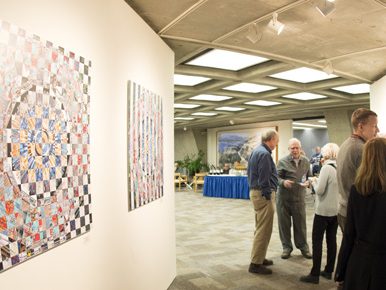 The LSC Arts Program want to announce the 2017 installment of the annual Student Artwork Exhibition, now moved to the winter season. For autumn, the museum has Beazley Designs of the Yr (October 18 2017 – January 28 2018) and annual showcase of the perfect modern design from the year, encompassing the themes of Structure, Digital, Vogue, Graphics, Product and Transport.
Protest, politics, multimedia, the normal media of painting and sculpture, warfare, violence and globalisation all were themes dominating the subsequent editions of documenta, and German artwork demigod Joseph Beuys grew to become a permanent guest artist – famously taking the competition out of the museum buildings and planting his 7000 oak trees across Kassel for documenta in 1982.
Against this Monochrome: Portray in Black and White (November 1 2017 – February 18 2018) contains works on glass, vellum, ceramic, silk, wooden, and canvas by artists comparable to Rembrandt, Picasso, and Gerhard Richter (1932-) and uncovers the fascinating but little-studied history of black-and-white portray.
Autumn at the Gallery ushers in Rachel Whiteread (September 12 2017 – February 4 2018), which celebrates 25 years of her sculpture and consists of works resembling Ghost (1990), Untitled (100 Spaces) (1995) and Untitled (Staircase) (2001) alongside works which have never been beforehand exhibited.